DJ Suss One and DJ Trauma present Rotimi 'While You Wait' (Mixtape)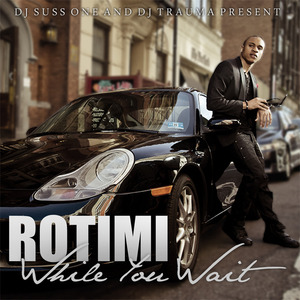 (November 8th, 2011) New York, NY – Singer/Songwriter/Actor, Rotimi releases his long-awaited mixtape, a ten-song collection which he began working on as music interim between his debut mixtape, "The Resume" and his upcoming EP release. As an answer to fans requests for new music, Rotimi began recording 'While You Wait'. This project brings an exclusive collaboration between New York's Power 105.1 DJ personality, DJ Suss One and Atlanta's own celebrity deejay, DJ Trauma as co-hosts.
 With the success of his first mixtape "The Resume", the New Jersey native has performed on BET's 106 & Park as the Spotlight artist and even became a worldwide trending topic on Twitter following the performance. Rotimi has also opened up for Jennifer Hudson and most recently made his acting debut as the character 'Darius' on STARZ original drama series, "Boss" alongside Kelsey Grammer. This talented multi-hyphenate is well on his way to stardom.
 A quick listen reveals a musical journey in which the R&B singer takes listeners on – "Tokyo Love" provides a vivid account of an encounter with a woman of another country, "I wanted people to be able to close their eyes and envision the story coming to life through the lyrics," says Rotimi.
 Rotimi expresses passion in love songs like "Closer to You" and "For Your Love". Along with many other songs on the mixtape; as a whole, 'While You Wait' provides R&B enthusiasts with a strong dose of infectious R&B ballads.
Track Listing
 1. While You Wait Intro with DJ Trauma and DJ Suss One
 2. Tokyo Love Produced by Capo Decina
3. Hello (feat. Mickey Factz) Produced by Professor Foxx
 4. Best Thing (Miguel Sure Thing Remix)
 5. Boss Produced by Amir Cuyler & Jay Reid
 6. Intermission
7. Roller Coaster Produced by Amir Cuyler & Jay Reid
 8. How to Love (Lil Wayne Remix) Produced by Tim Yamaya of Northshore Pharmacy
 9. She Know It Produced by Bartendaz
10. Closer to You Produced by Vonderlab Productions
 11. Screamin' Produced by B. Scott
 12. For Your Love Produced by Amir Cuyler & Jay Reid
 "While You Wait" consists of original songs a collaboration with XXL Magazine's 2009 Hip Hop Freshmen, Mickey Factz and fan favorite, 'How To Love"– where Rotimi reworks the original lyrics to Lil Wayne's hit song.
 CHECK OUT HIS HOT NEW SINGLE "HELLO" AND NJOY THE VIDEO
03 Hello by Rotimi_WhileYouWait
Related articles